Description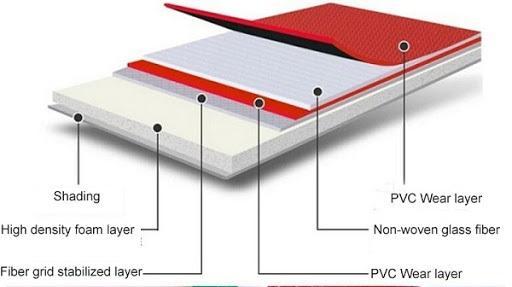 Introducing the Green Viceroy sports floor!
This high quality flooring, manufactured in Thailand, is a fantastic combination of durability and performance.
With a thickness of 8 mm, it is perfect for the needs of handball, basket ball and volleyball. Provides fantastic comfort and cushioning to the knees during sports play. Reducing injuries and increasing sensations.
The Green Viceroy floor is the ideal choice for high performance multi sports use. Treated to perform, with the Tarkett trademarked Top Clean XP. Surface protection for extra durability and cost-effective maintenance.
Along with high performance sports, these floors are also superbly suitable for nurseries and children play areas.
Moreover, the fact that these vinyl floor seams are welded shut, means an optimal clean floor. Together with anti fungal and anti bacterial properties, this floor is a very safe option. Plus a cushioned floor to minimize bumps and scrapes on little hands and knees.
Vinyl sheet flooring is great for any room in the house. Any level in your house is good to receive these floors — above, on or below ground. It is a specially good choice for high-traffic areas like kitchens and playrooms, or moisture-prone areas like bathrooms and laundry rooms. As a matter of fact, the best use of vinyl floors are on flat, level surfaces.
Therefore, personal nurseries, play areas, and indoor sports areas. These sports floors are an excellent option for all your requirements.